After seven years of working on The Corners of Brookfield – an upscale, mixed-use redevelopment project five minutes from downtown Milwaukee, Wisconsin – the opening is set for this weekend. I had the privilege of serving as the design architect for The Corners, leading the design team, providing a design charrette, and visioning exercises.  Working with The Marcus Corporation, we refined the plan – which included the architecture, landscaping, and environmental graphic design – to come up with a true live, work, play community environment that will no doubt become a destination for many over the coming years.
Fast forward to today: I could not be prouder of the finished product. The Corners is a 750,000 square foot premier center with 400,000 square feet of open-air retail and dining and over 240 luxury residential units. The site plan is centered on a public green space that includes pedestrian friendly streets designed to give residents and consumers alike a place to create memorable experiences with friends and family. This $200 million project is now anchored by Von Maur and Sendick's grocery. In addition, many local and national boutiques catering to the needs of consumers in the Milwaukee area are getting ready to open their doors.
 "It is great to watch your design work come to life"
It goes without saying that most projects come with their own set of challenges, and The Corners was no different. Here, we had to overcome the issue of parking, or the lack thereof. But, we used the site's unique topography to successfully come up with a solution. Given the limited space, we decided to design the parking below grade, meaning the project itself sits on top of a podium, something rarely done in the United States. This design solution allows for increased density in the way of retail and corporate office space as well as residential units. There would not have been enough space otherwise to meet parking requirements. Not to mention, this solution provides covered parking for residents and visitors – perfect for Wisconsin winters.
As I've mentioned in blog posts previously, one of the reasons I love what I do is being able to watch my designs come to life, knowing that what I'm creating will give so many people a place to call home or create memories with their friends and family. I'm excited for the people of Milwaukee and hoping they enjoy using the space as much as I did creating it.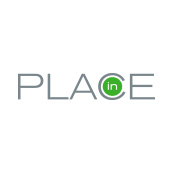 inPLACE Design is an architecture, planning, and design firm with the experience and capabilities to create extraordinary, engaging, and inspiring placemaking in cities, towns and suburbs both nationally and internationally. We are dedicated to design excellence and innovative design strategies that are environmentally responsible and sustainable.